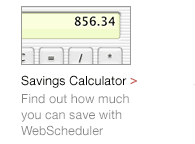 Use the Internet for workflow scheduling, field staff management and reporting.

A WebScheduler software subscription provides you, your customers, suppliers, employees, contractors and other resources a low-cost way to execute and report on the central tasks required to enable specific, recurring, service events.
WebScheduler LLC is a SaaS (Software as a Service) provider. Our workflow software is both configurable by you, and if necessary, customized by our programmers. In our fourteenth year.
WebScheduler Works!





Reduces scheduling burden
Telephone time is costly. When your customer calls you to schedule or to confirm a routine event, it is an expensive use of his time, too.** With faxes the data are entered, then lost to a piece of hard-to-read paper. Instead, using easy dropdown menus, your customer Users post details of the service/surgery/training/field installation event to your WebScheduler schedule; that information is not lost, rather it is available for instant action and reporting. Start a free trial WebScheduler Now!.





With WebScheduler convenience means anytime and anywhere
Your Calendar is available anytime; and, everyone who logs in views the current schedule. If, on a Sunday afternoon, an employee must make a change to the schedule, or if a surgeon wishes to view her surgery or Call schedule for the next week, they just login to their secure Calendar from home. No FAX'es are required for changes because if those affected by the change are away, they are alerted automatically by text messages and/or email. It is simple AND convenient.






Improves access to and control of information
We design your Calendar to match your workflow. We help you customize WebScheduler so each familiar step conforms to your established business rules. Tasks usually accomplished by telephone or fax, are executed through a Web-browser interacting with your company's calendar/database. Your Authorized viewer sees the calendar from any Internet connected PC or Tablet or Smartphone in the world.





WebScheduler is yours
Our modular design strategy allows you to configure WebScheduler to your exact business rules. You control just how much of your schedule any User can see: all, some or just their own requests.

The significant advantages are that time is saved, and WebScheduler collects and reports on performance data inconspicuously, as the work is being done. (Click here for WebScheduler Demo)



** You both have to be on the phone at the same time, i.e. phone calls are synchronous events.